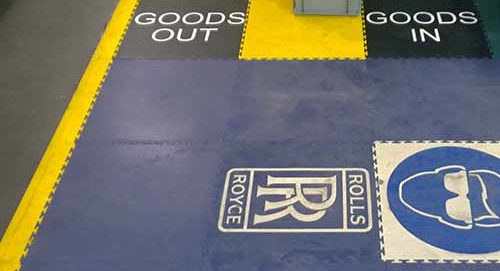 Case study: Rolls-Royce
With the engine division, Rolls-Royce offers highly efficient drive systems that are used in the aviation, marine and energy industries worldwide. The company's focus is on outstanding engineering paired with operational efficiency. To ensure this, Rolls-Royce works according to a lean management principle, which is integrated into the company's productions. Ecotile is now helping the company with this approach.
What?
At the production facility in Bristol, England, Rolls-Royce renewed the facilities in ten of their team centers. In accordance with the lean management approach pursued, the focus here was in particular on safety and efficiency through a new visual concept. The production facility manager, Andrew Thomas, realized that the floor in particular had not been used efficiently enough.
How?
The Ecotile system was installed in the direct working environment of the employees. Through the use of health and safety signs and logos in the floor, the internal high performance culture of the company and thus the identification of the employees with the company is strengthened. In other areas of production, different colors of the system are used, which increase safety and efficiency by marking work areas and walkways.
Why?
Ecotile tiles can be laid quickly and easily, directly on damp, damaged or uneven floors. The concrete floor at Rolls-Royce was in good condition but had to be treated with acid every 6-9 months. Previously, this was necessary to remove residues from wax and silicone treatments. Normal operations had to pause while this residue was being removed. With the installation of the Ecotile system, a plan comes into effect in which the tiles are cleaned every five weeks – without any downtime and at no additional cost.
Ecotile designs and manufactures its range of products in its own manufacturing facility in the UK. The system offers a durable and safe flooring solution that can be installed with minimal disruption to operations. Customers from industry, trade and education worldwide rely on the floor system.
A sustainable solution
The floor systems from Ecotile come with a 10th year manufacturer's guarantee. The tiles are made from the highest quality raw materials and after use can be recycled to create a new generation of floor tiles.
---
If you are interested in the use of our PVC industrial flooring, contact 06251 803 2908 from Germany and Austria or 0713 132 131
from Switzerland. You are also welcome to contact us by email .